USM Alumni, faculty artists will be presented at the Mississippi Museum of Art Invitational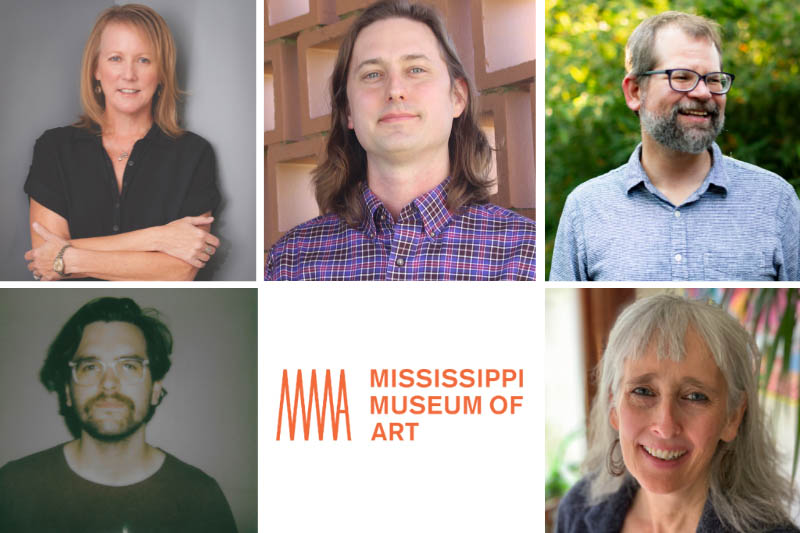 Thu 07/15/2021 – 12:19 p.m. | By: Ivonne Kawas
Four alumni and a faculty member from the University of Southern Mississippi (USM) have been invited to participate in this year Mississippi Invitation exhibition organized by the Mississippi Museum of Art (MMA).
MMA has selected 42 artists to appear in the 2021 Mississippi Invitation exhibition, a survey of recent works created by contemporary visual artists living and working in the state.
The highly competitive cohort includes local artists affiliated with USM, including alumni Karen Gilder of Florence, who were trained in photojournalism; Spence Townsend of Greenwood, who earned a BFA in painting and drawing; Gregory Walker of Jackson, who received his BA in radio, television and film as well as an MS in mass communication; and Whitson Ramsey of Hattiesburg, who received his BFA in drawing and painting; and professor of sculpture and ceramics, Jennifer Torres of Hattiesburg.
As the largest art museum in the state, MMA offers a dynamic roster of exhibitions, public programs, arts and community partnerships, educational initiatives and exchange opportunities throughout the world. 'year. This is the largest number of artists represented at the Mississippi Invitation since the Museum launched the biennial program in 1997.
Guest artists are chosen by competition and the exhibition will feature unique works across a variety of media. The selected artists will have the opportunity to show their talent and positively represent USM.
"I am honored to be once again included in the very competitive Mississippi Invitation"said Torres, professor of sculpture and ceramics in the art and design program." What makes this year's exhibition even more exciting are the USM alumni also included in the exposure."
"To be in such an exceptional show with alumni, some of whom have taken courses with me, is a moment of pride for me and for all the teachers in our program," she added.
In addition to showcasing their work, artists have unique perspectives and skills to offer on this year's invitation.
The works and pieces presented include:
A pigment print photograph entitled, Landing, presented by Gilder;
An oil painting entitled, At the station, presented by Townsend;
Collaborative pieces of cyanotype with Mississippi River water on cotton paper titled,
Tetraptych 1, Tetraptych 2 and Pentapty 1, presented by Walker and Pat Galluzzo;
An oil and graphite canvas entitled, The day my grandmother became a widow, presented through Ramsey; and
A sculpture in wood, foam, fiberglass, resin entitled, Majesty of the purple mountain, presented by Torres.
To see from August 14 to October 10, 2021, this year Mississippi Invitation the works were selected by guest curator Danielle Burns-Wilson, current chief curator at the Houston Public Library and assistant professor of art history and art appreciation at Lone Star College-North Harris Campus .
Guest artists will be eligible to apply for the Jane Crater Hiatt Artist Fellowship, a grant of up to $ 20,000 awarded to an artist. The recipient will be announced at an opening reception on August 13.
MMA Director Betsy Bradley said: "The power and courage of performers has always been an inspiration to me. In the face of all that is contrary, they summon the courage and strength to do something that tells others their truth. And our communities are doing better. The Mississippi Invitational 2021 demonstrates that the power to do something beautiful, to survive, to connect with ideas and with others, can be stronger than the temptation to withdraw. "
During August 2021, the MMA will offer free admission to welcome visitors after the pandemic. The weekly hours are from Thursday to Saturday from 10 a.m. to 5 p.m. and Sunday from 12 p.m. to 5 p.m.
General admission is $ 15 / person; $ 13 / Seniors and groups of 10+, $ 10 / College students with school ID card; and free for museum members, children 5 and under, and K-12 students on Thursdays through Blue Cross Blue Shield of Mississippi.
COVID-19 guidelines: The Mississippi Museum of Art requires masks to be worn at all times in the museum and has multiple hand sanitizing stations located throughout the building.
For more information on 2021 Mississippi Invitation, visit msmuseumart.org.