Rapid response limits damage from barn fires at Miracle of America Museum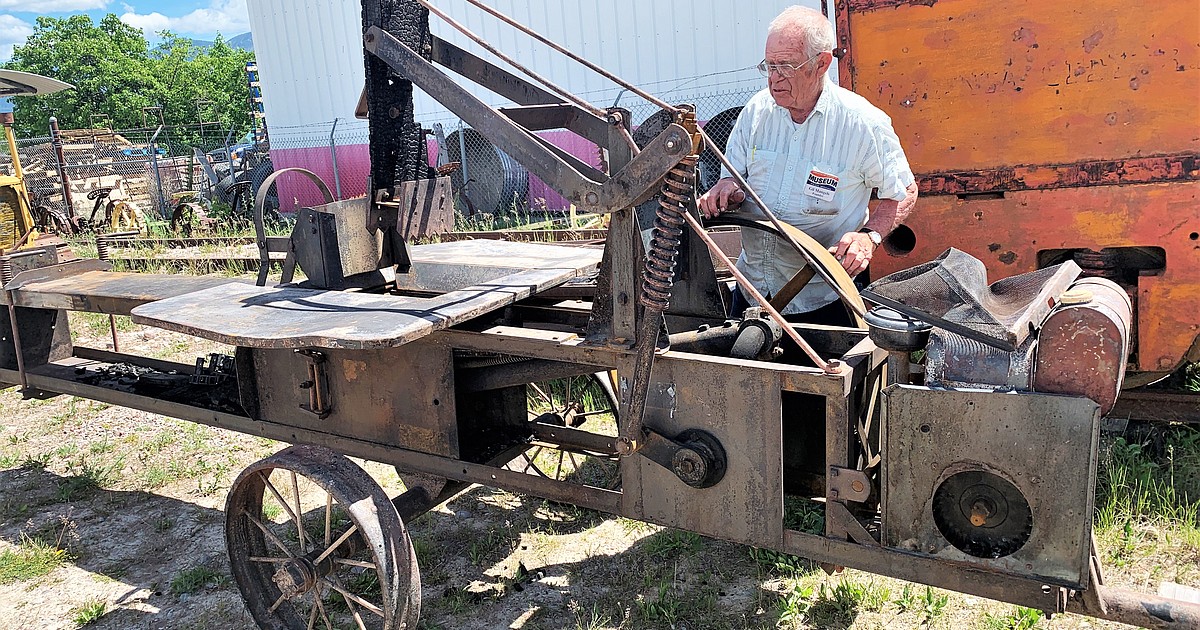 A bit of Lake County history went up in smoke Friday morning as a fire destroyed a barn full of farm equipment and artifacts at the Miracle of America Museum southeast of Polson.
The good news is, things could have been a lot worse.
The museum has a collection of thousands of artifacts from American history scattered in 42 buildings on 4.5 acres of land. While the farm barn was destroyed, other adjacent structures suffered little to no damage thanks to a swift response from local fire teams.
A small barn full of dairy equipment next to the farm barn has burn marks on the front. An open barn area just behind the blaze that is full of antique tractors – with a helicopter on the roof – was virtually unscathed.
Gil Mangels founded the museum, located at 36094 Memory Lane, in 1981. He and his wife, Helen, run the museum, which operates as a 501 (c) non-profit organization.
Mangels said on Monday he burned dandelions near the barn on Friday morning.
"I couldn't find anyone to help me with the weeds. I was very careful. But a spark must have occurred behind the woodwork of the building.
Mangels said the buildings affected were the 1936 barn and a nearby farm building which were a complete loss with many rare farm antiques badly damaged or destroyed. While many structures in the museum are insured, those that burned down are not.
Among the items destroyed was a collection of sacks of Lake County potatoes bearing the names of local growers. An old Case stationary bailer, a collection of barbed wire, seeders, grain mills, cultivators and a grain mill were also damaged.
Mangels said it would take him some time to go through the piles of damaged items and determine which ones are salvageable. Some items have pieces of wood that have been charred, while the metal frame is left intact. Other metal objects became deformed and twisted from the heat of the fire.
Mangels said the rapid response from fire crews saved the day. He also winked at Mother Nature.
"We were lucky the wind didn't pick up. It could have been a lot worse if it had been. "
Several agencies responded to the blaze, including Polson Rural Fire, Polson City Fire, Polson Police, Polson Ambulance, the Lake County Sheriff's Office and members of the Chief Cliff Volunteer Fire Department.
Polson's city limit runs between Walmart and the museum, and the closest water source for firefighters is the south end of the Walmart parking lot. Crews ran a hose from the parking lot to Memory Lane, a front road, about a quarter of a mile from the fire.
"We started with a tank attack and then moved on to the hydrant supply," once the hose was connected and extended to the museum, said Polson Rural fire chief Gordon Gieser. .
Mangels said it is almost impossible to provide an estimate of the damage.
"The real value of these items is the joy they bring to people. Antiques open the minds of an older generation who might have forgotten.
The museum's collection includes ancient military vehicles, guns, motorcycles, dolls, toys, cars, boats and thousands of war memorabilia. The site also hosts an annual Live History Days event every July. The museum remains open from 9 a.m. to 5 p.m. daily.
You can help
Mangels said anyone wishing to help clean up the burnt out barn site can stop by at any time during business hours. "It's a dirty job, though, so they need to bring gloves and be ready." He hopes people will be interested in taking on a project and helping restore some of the burnt down equipment. Visiting the museum and encouraging others to do so also helps. Admission costs $ 10.
Anyone interested in volunteering for this year's Living History Days should contact the museum at 406-883-6804. For more information visit miracleofamericamuseum.org.