Museum in Baltimore Announces 175 New Art Acquisitions (Copy) | Arts and entertainment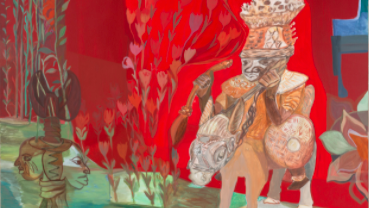 BALTIMORE – The Baltimore Museum of Art announced earlier this month that it had received a large pledged donation of 90 works of art by nearly 70 artists from longtime museum supporters Nancy Dorman and Stanley Mazaroff .
The gift is particularly strong in photographs and works on paper, including those created by acclaimed artists Hans Hofmann, Helen Frankenthaler, Grace Hartigan, Alfredo Jaar, Christopher James, Louise Lawler, Andres Serrano, Gary Simmons, Wolfgang Tillmans, Sze Tsung Leong and Fred Tomaselli. The collection also includes significant works by artists based in or with close ties to Baltimore such as Larry Cook, Roland Freeman, Connie Imboden, Soledad Salamé, Elizabeth Talford Scott and Stephen Towns.
Examples of other paintings, sculptures, textiles, multimedia works and decorative arts include those of Anthony Caro, Leonardo Drew, Sam Gillam, Hun-Chung Lee and Sarah Sze. The giveaway coincides with the upcoming opening in December 2021 of the BMA's new Nancy Dorman and Stanley Mazaroff Center for the Study of Prints, Drawings and Photographs, which is supported by a $ 5 million donation from the couple.
During the winter and spring of 2021, the BMA acquired 175 objects through purchase and donation that encompass a wide range of contemporary art across media, as well as historical objects that add artistic and cultural significance to the collections of the Museum. Most are the artist's firsts in the BMA's collection.
As part of its acquisitions, the BMA and the Menil Collection will co-commission The SNCC Manifestoes, a new multi-channel video installation by internationally renowned artist and filmmaker John Akomfrah. The video will explore the work and impact of the Student Non-Violent Coordinating Committee, as narrated by Baltimore historian Taylor Branch.
"These acquisitions represent an incredible range of artistic achievements as well as the commitment of the BMA curatorial team to bring new and important voices to our collections. Over the past several years, we've focused on rectifying critical omissions in our post-war and contemporary collections as part of an effort to tell a truer narrative of art history. We are now looking deeper into history and across geography and culture to reveal artists, works of art and innovations that may have been under-recognized in centuries past to shift the conversation to the diversification of collections from the modern era to the history behind it. I look forward to working with our talented curators and our team on this effort, and I am grateful to donors like Nancy and Stan, who continue to support our vision and our ongoing work, "said Christopher Bedford, director of the BMA, Dorothy Wagner Wallis.
About the Baltimore Art Museum
Founded in 1914, the Baltimore Museum of Art inspires people of all ages and backgrounds through exhibitions, programs and collections that tell a vast history of art, questioning long-standing narratives and embracing new voices. Our exceptional collection of over 95,000 objects spans many eras and cultures and includes the world's largest public collection of works by Henri Matisse; one of the finest collections of prints, drawings and photographs in the country; and a growing number of works by contemporary artists from diverse backgrounds.
The museum also stands out with a neoclassical building designed by American architect John Russell Pope and two beautifully landscaped gardens featuring an array of modern and contemporary sculptures. The BMA is located three miles north of Inner Harbor, adjacent to the main Johns Hopkins University campus, and has a community branch in Lexington Market.
General admission is free so everyone can enjoy the power of art. For more information call 443-573-1700 or visit artbma.org.