Lemonade and cookie sale raise $4,500 for Child Advocacy Center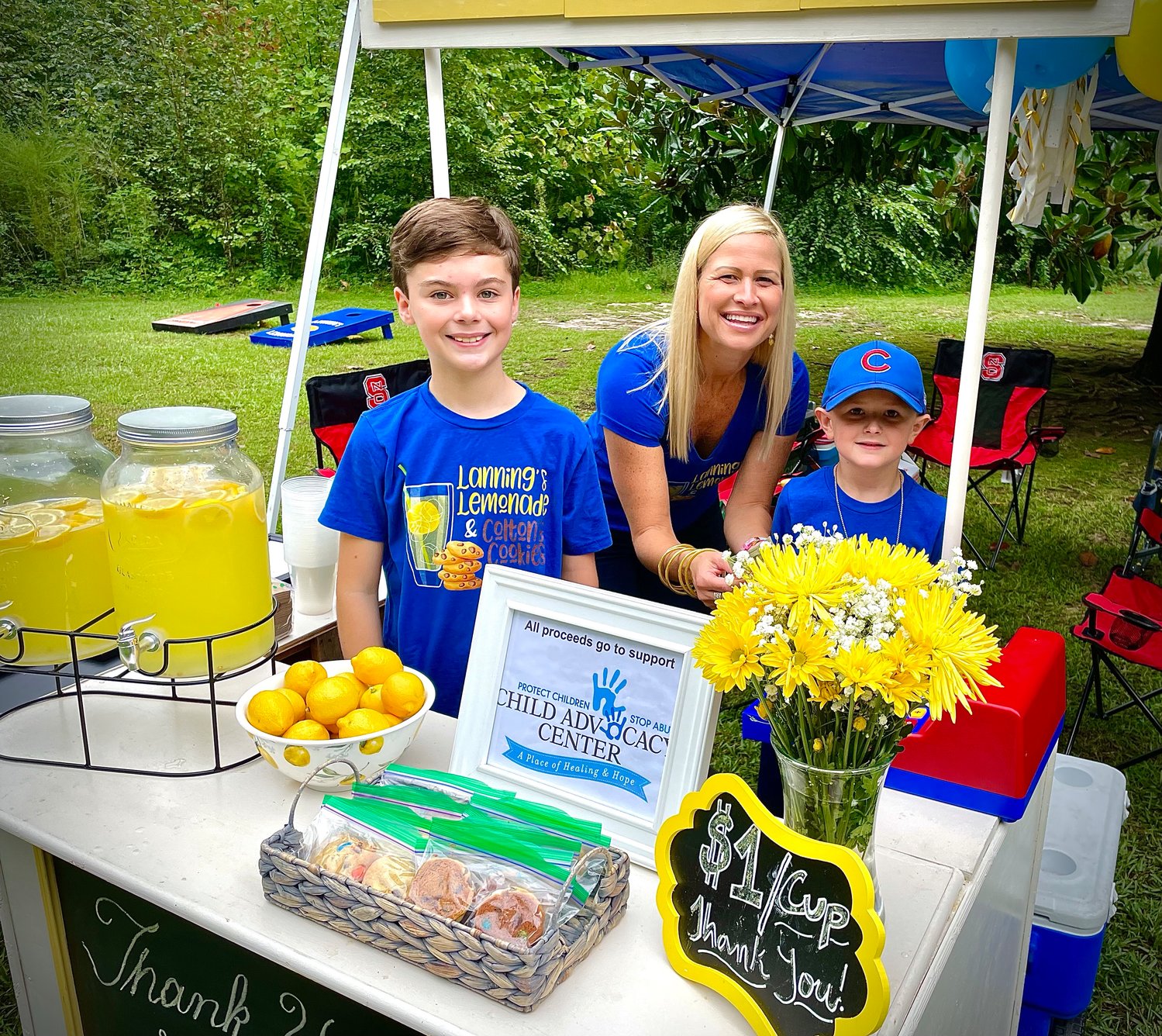 By Jason Brady
After weeks of hectic planning and last-minute preparations, the fourth annual Lanning's Lemonade and Colton's Cookies fundraiser has ended on another note of success.
The dynamic team of entrepreneurial brothers Lanning Kistler, 9, and Colton Walters, 8, presented a check for $4,524 to the Child Advocacy Center last week.
This was the second time the boys had chosen to donate their fundraising proceeds to the Child Advocacy Center. Including this year's event, which took place on August 20, the boys raised $7,099 for the center.
Roberta Humphries, executive director of the Child Advocacy Center, said the money will go into the general operating budget to help fund the many services the center provides for abused children.
Humphries said the center benefits from several "third-party" fundraisers, but this is the first organized by children.
"It's the only one run by kids," Humphries said in a phone interview. "It's their idea and the choice of who they give the money to. It's a bit unique.
In addition to making money selling lemonade, which Lanning spiced up this year with a secret ingredient he refuses to divulge, and selling cookies loaded with M&Ms made by Colton, the boys have also raised funds through online sponsorships and donations.
"Everyone loved our new recipe," Lanning said in an email. "People kept telling us it was the best lemonade they'd ever had," he said.
Not to be outdone, Colton has also done well with his cookies. "My cookies were also popular. We sold some and made about 200," he wrote in his email. "We need to make more next year."
Sponsors included Firehouse Subs on Glensford Drive, The UPS Store in Westwood Mall, City Center Gallery and Books on Hay Street, Maidens and Monsters Face and Body Art and Meraki Creative Agency. State Senator Kirk deViere and his wife, Jenny, and Randy and Ann Gregory also sponsored the fundraiser.
With the exception of first year, the boys hold their fundraiser at the entrance to VanStory, in an opening just off Morganton Road, but change may be on the horizon.
Father John Kistler said the event could be associated with a large community organization in an effort to attract more sponsors and promote fundraising more aggressively.
Kistler said the expanded business could help attract sponsors, which made this year's event a success. He envisions more activities for younger patrons, such as bouncy houses, and perhaps selling local art and music for adults.
"Basically, we're considering anything that can help bring in donations for the Child Advocacy Center," Kistler said. "We are open to any ideas from community members to make this an event that people would want to attend and donate money to a very deserving and much needed organization."
For more information, contact Kistler at [email protected].
Jason Brady covers Cumberland County Government for CityView TODAY. He can be reached at [email protected].
Key words
Fayetteville,

Fundraising,

Children's Advocacy Center,

Lanning's Lemonade and Colton's Cookies