Katharina Grosse will release her first NFT this Saturday.
Katharina Grosse will release her first NFT on Saturday September 18 at 6 p.m. CEST, in a limited edition which will be exclusively available for 24 hours (999, – USD) on misa.art. The NFT titled NUMBER ONE is a floating sculpture in space with which the viewer can interact.
To create the interactive immersive experience, a bronze sculpture was digitized and was part of Grosse IT WASN'T US's iconic solo exhibition at Hamburger Bahnhof in Berlin earlier this year. Her exhibition, a kaleidoscopic painting, brought together colors and shapes, natural and man-made environments, and her visitors as participants in a global and pulsating interaction of hues. In addition to the bronze sculpture, the artist used as a pictorial basis for his work the museum floor, the facade of the Rieckhallen as well as polystyrene elements, which were shaped and scaled to their ultimate dimensions in many stages. Now viewers themselves can resize the digital sculpture and explore its form from all angles. The underlying sound loop amplifying the movement and exploding of the sculpture was composed by the artist and Stefan Schneider.
Grosse frees himself from borders and hierarchies of objects, opening up ever new perspectives on the possibilities of painting. Reality can always be observed and experienced differently. Now, with NUMBER ONE, she leaves physical space and enters the digital realm to explore new ways of combining visual and sound elements.
Collectors of the NFT will receive an animated 3D model of the sculpture, a video of the interactive experience and the code stored on IPFS. With this edition, collectors support the Friends of the Nationalgalerie with the dedicated aim of acquiring the sculpture and a painting of Grosse. While the physical sculpture will be part of the museum's collection, the digital sculpture can be owned by anyone.
Katharina Grosse, first NFT NUMBER ONE drops this Saturday, September 18 at 6 p.m. CEST 4 p.m. GMT 11 a.m. CST exclusively available for 24 hours on misa.art
About the artist
Katharina Grosse's paintings can appear anywhere. His large-scale works are multidimensional visual spaces in which vivid colors are rendered directly on and through walls, ceilings, objects, entire buildings and landscapes. For more than twenty-five years, Grosse (born in 1961, Freiburg im Breisgau) has been present internationally in the art world.
Recent institutional exhibitions and in situ paintings include PSYCHYLUSTRO, for the Philadelphia Mural Arts Program (2014); YES NO WHY LATER at the Garage Museum of Contemporary Art, Moscow (2015); SEVEN HOURS, EIGHT VOICES, THREE TREES at Museum Wiesbaden (2015); UNTITLED TRUMPET for the 56th Biennale di Venezia (2015); Katharina Grosse at the Frieder Burda Museum, Baden-Baden (2016); ROCKAWAY for Rockaway from MoMA PS1! program at Fort Tilden, New York (2016); ASPHALT AIR AND HAIR at the ARoS Triennial, Aarhus (2017); THIS took my mother to the wall at the South London Gallery, UK (2017); THE HORSE TRACKED ANOTHER COUPLE OF METERS, THEN IT STOOD AT Carriageworks, Sydney (2018); WUNDERBILD at the National Gallery in Prague (2018/2019);
MUMBLING MUD at chi K11 art museum in Shanghai (2018/2019) and chi K11 art space in Guangzhou (2019); MURAL: JACKSON POLLOCK / KATHARINA GROSSE at the Museum of Fine Arts, Boston (2019/2020), IS IT YOU? at the Baltimore Museum of Art (2020/2021) and IT WASN'T US at Hamburger Bahnhof – Museum für Gegenwart – Berlin (2020/2021). Currently, two exhibitions are on view: SHUTTER SPLINTER at the Helsinki Biennale (until September 26, 2021) and CHILL SEEPING FROM THE WALLS GETS BETWEEN US at the HAM Helsinki Art Museum (until January 23, 2022). The artist lives and works in Berlin and New Zealand.
ABOUT misa.art
misa.art offers a carefully curated selection of primary and secondary market artwork. It is the only online marketplace that brings together emerging and established artists and offers a range of traditional and digital art. Ultra
Contemporary artists are presented alongside classics from the history of art of the past 70 years. The selection of new
discoveries and canonical works are constantly expanding, and NFTs and editions are regularly discontinued.
Categories
Key words
Author
Marc Westall
Mark Westall is the founder and editor-in-chief of FAD magazine Founder and co-editor of Art of Conversation and founder of the @worldoffad platform
The Currency by Damien Hirst is the artist's first NFT drop. The currency is a collection of 10,000 NFT, also […]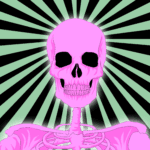 Tighe-Mearns-Smith has a burst of creativity that just seems to grow and grow – we've caught up with them […]
Moogz, the digital editor of FAD managed to take some time with Jonathan Perkins SuperRare co-founder and product manager to find out […]
journalist post-conceptual artist, Skye Nicolas. And with the recent rise in NFTs (non-fungible tokens), it's no surprise that the New York-based artist has been busy creating innovative digital artwork while making a firm foothold in the community. NFT booming.