Girin's Illustrative Fine-Line Body Art – Scene360
32 years old Girin studied animation and cartooning at Sejong University in Seoul and taught at an art academy for a while. Yet he was more intrigued by the art of tattooing and learning the craft. Self-taught and starting a career in tattooing in 2017, Girin likes to use a three-needle liner to give lots of texture and depth to dragons, warriors, gods, etc. Because he focuses on fierce characters in his polished body art, he often receives requests for guest spots outside of South Korea, such as an upcoming one in Australia. Customers are also very interested in a future visit to the United States.
Above: A black and gray tattoo of the Japanese thunder god Raijin.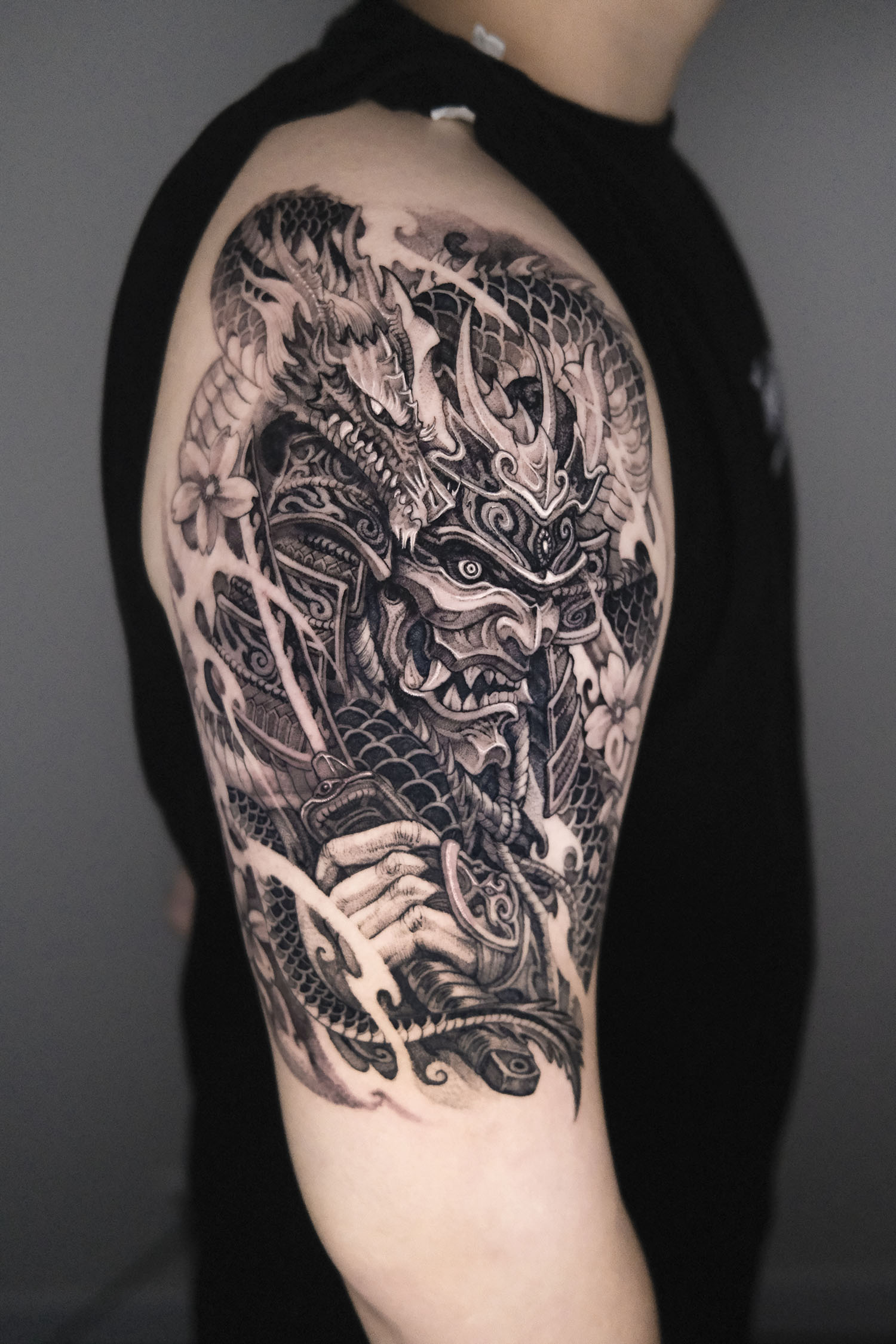 The majority of Girin's works have sharp details and white accents that make the composition stand out.
Please explain your artistic inspirations.
I have been interested in oriental art since I was a child. I like to watch fantastic animated films and read novels related to martial arts. I also like the design of Asian armor and weapons, so I got inspired and drew them. In tattooing, I didn't want to duplicate the traditional Irezumi style; instead, I wanted to create my own.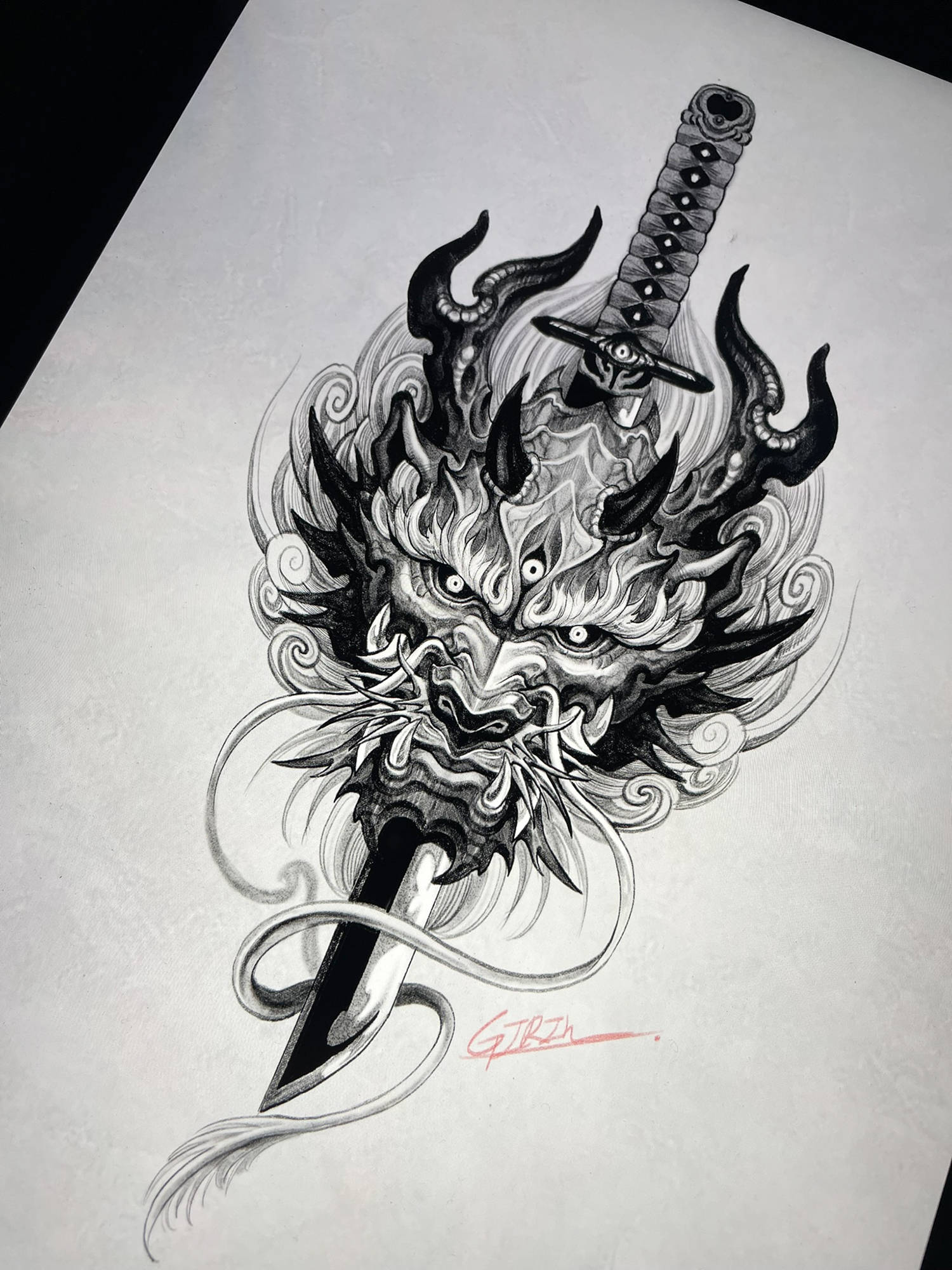 The intention of Girin's work is not to reproduce traditional Asian art exactly; rather, it shows the impact of the art of animation and illustration.
What are your favorite animals or characters that you like to tattoo the most?
The dragon, tiger and hannya masks are some of my favorites. I love all Asian characters, from Raijin to Fujin [Japanese god of thunder and wind]in addition to animated ones like Son Goku.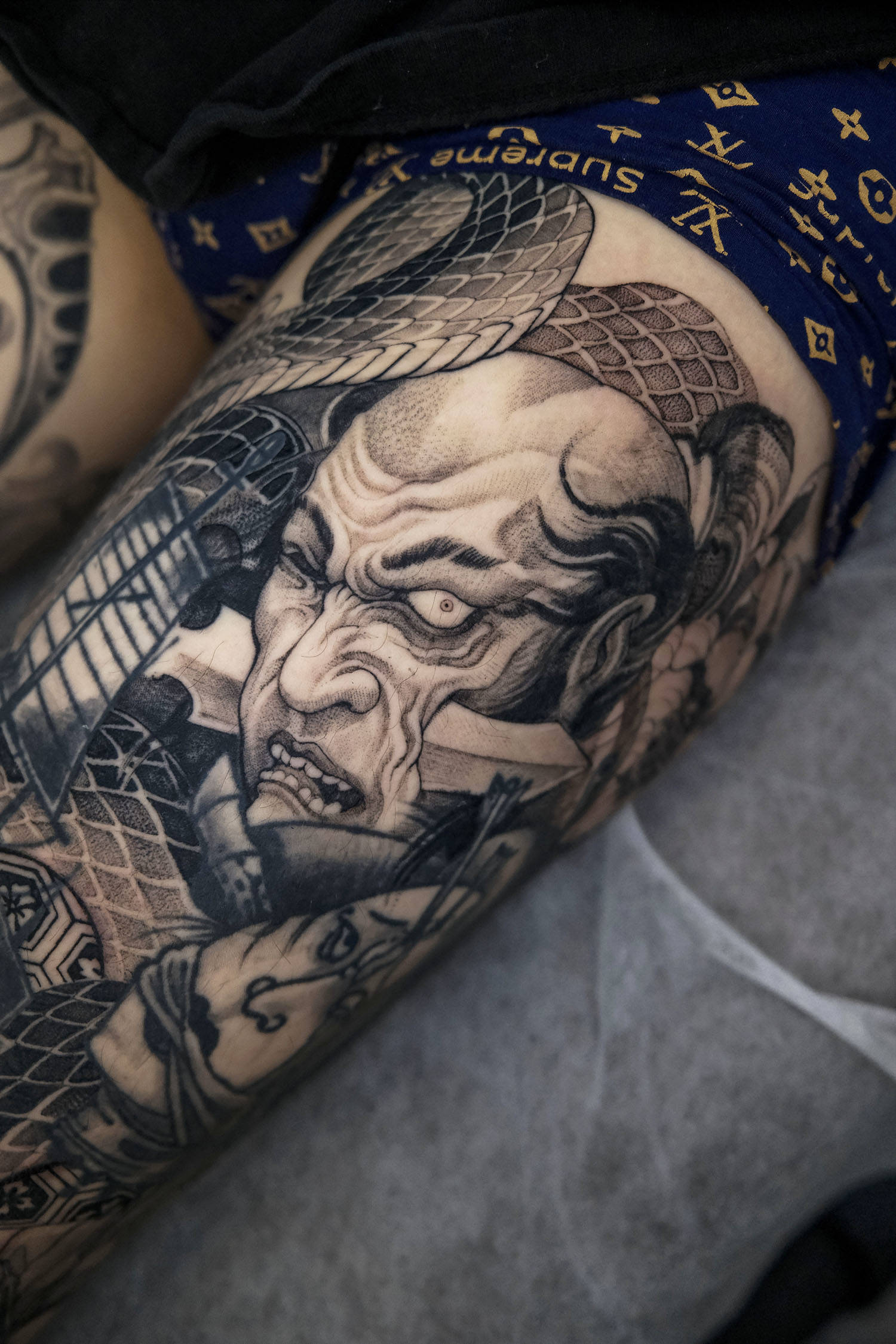 An interpretation of Namakubi (a freshly severed head).
What might the public not know about you?
I am not a professional at Irezumi. My favorite images are suitable for an Irezumi type, it reflects a certain measure, but I can't say that I do this style of tattoo. I think my work is more caricatural and illustrative.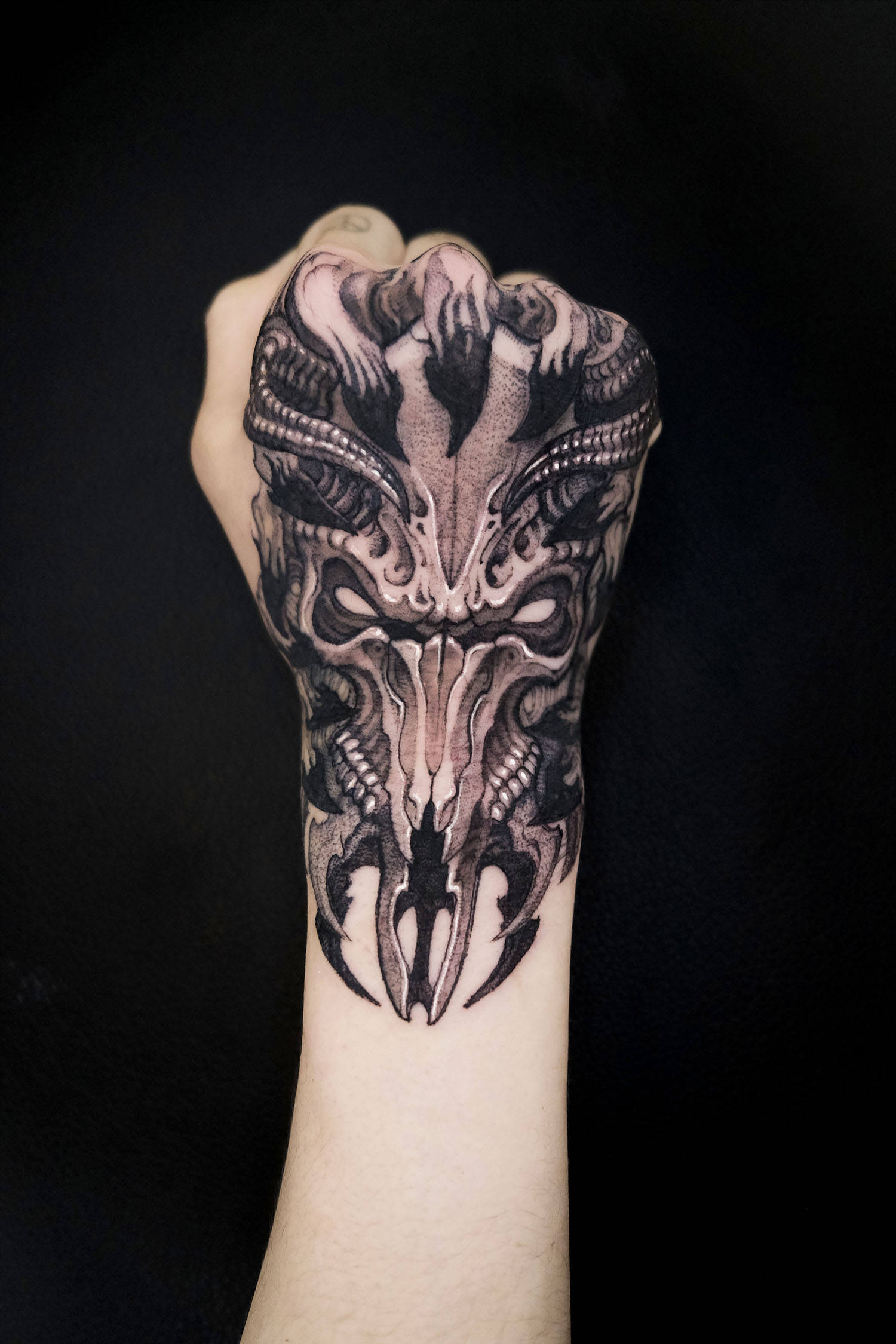 Girin uses a thin liner for everything from outlines to whip shading.
There are a lot of details in your work. Do you use smaller needle sizes?
I only use an 0803 liner.
Most of your work consists of black and gray inks. Why is monochrome preferred over color?
I am self-taught; handling color ink and doing it well is a challenge. But I am gradually studying colors and will share some work online soon.
A sketch of a wolf influenced by Japanese mythology.
What's difficult about using color pigments?
I only drew in black and white and lacked inspiration when trying to use color. If you use the color inks incorrectly, the skin will not accurately reflect the full range of colors. And color needs twice as long as black and gray.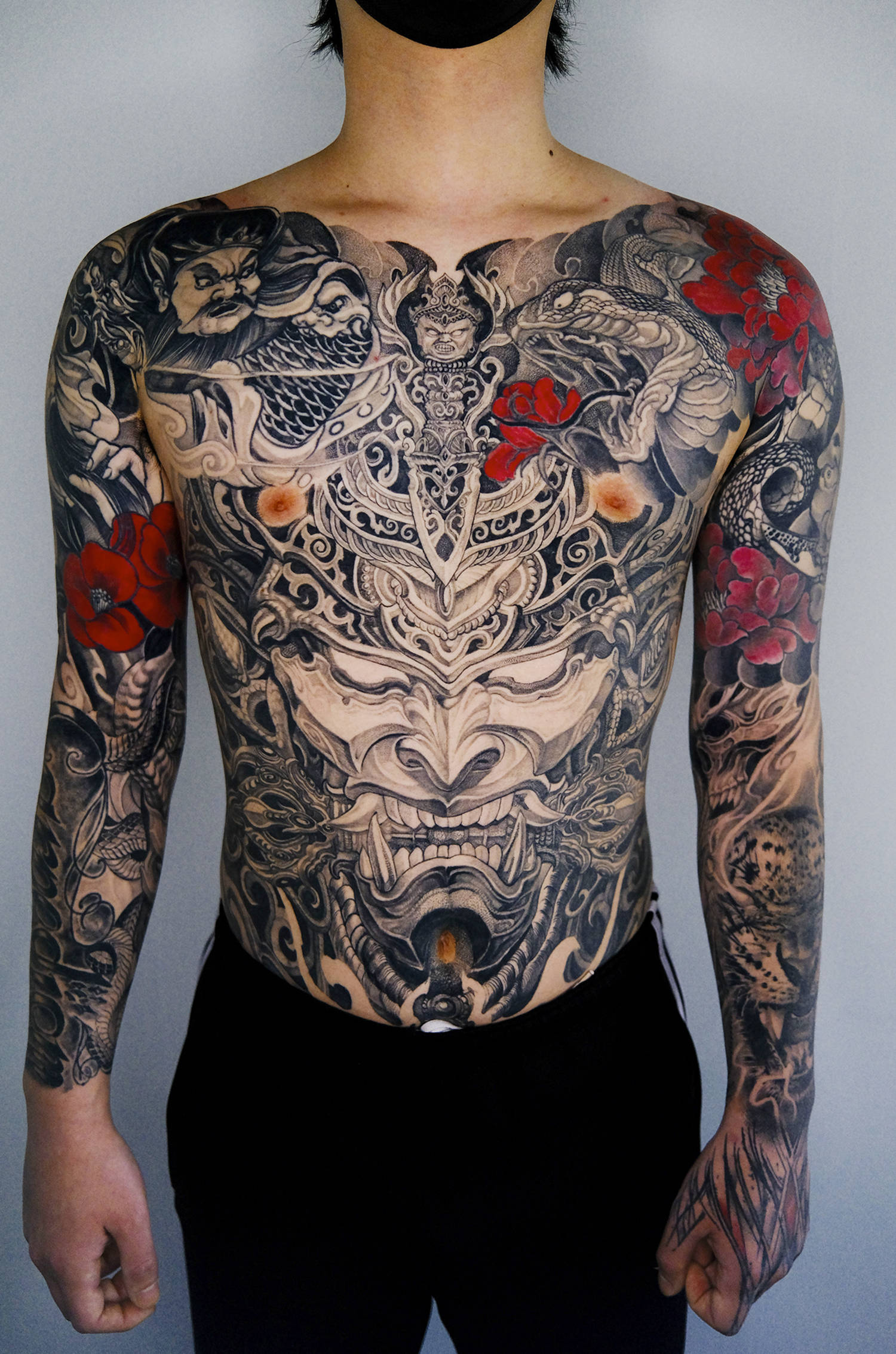 The torso and sleeves of one of Girin's best tattoos.
How many sessions and total hours did it take to complete the artwork above?
It took a long time, about a year. There were times when the customer came to the store once a week and sometimes once a month. I usually work 3-4 hours a day.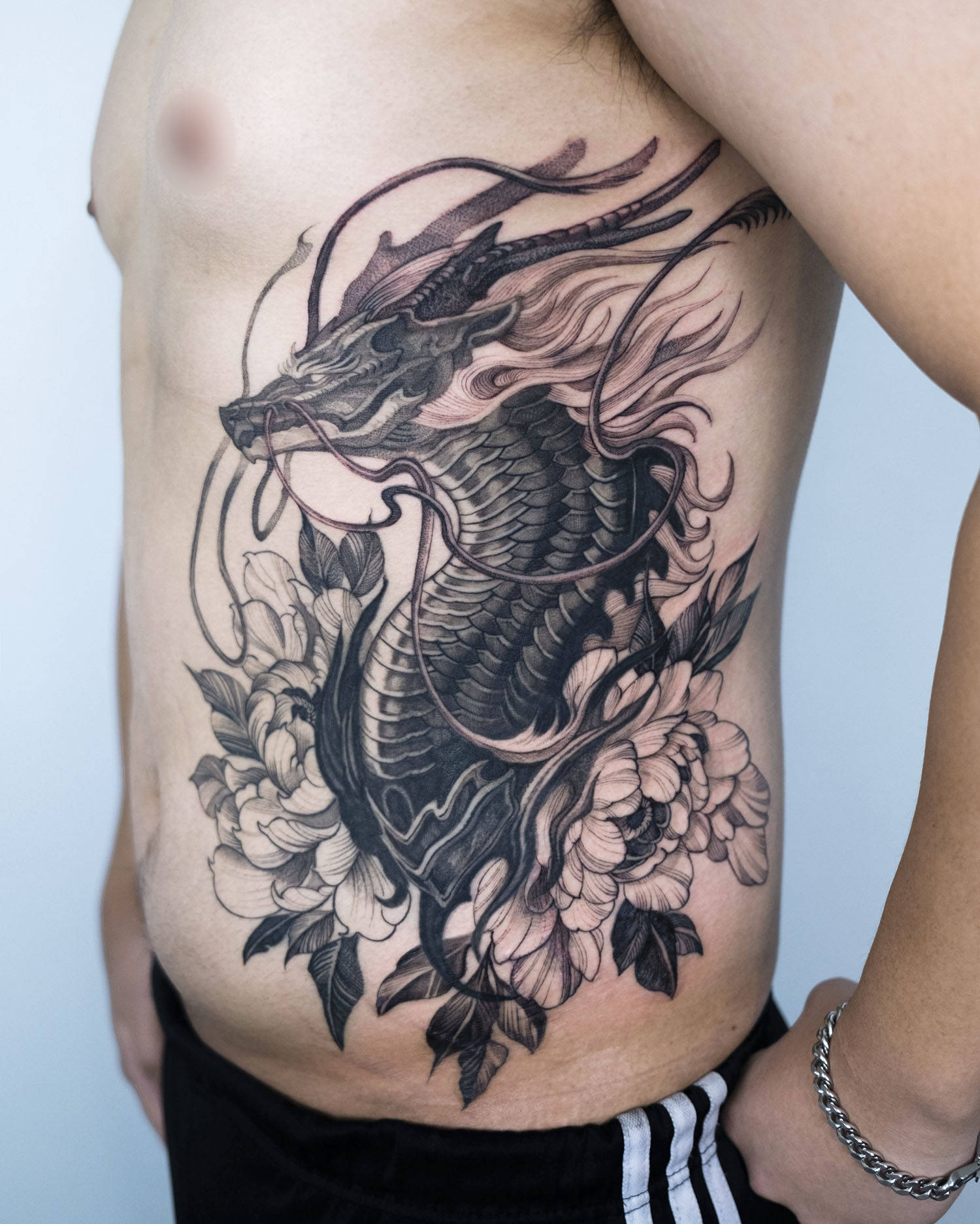 Mythical creatures are majestic and graceful.
Are you doing 3-4 hours for the client to hold back the pain or for other reasons?
My cervical disc prevents me from working for long periods of time. My back, neck and wing bones get extremely sore when I get tattooed for an extended period of time.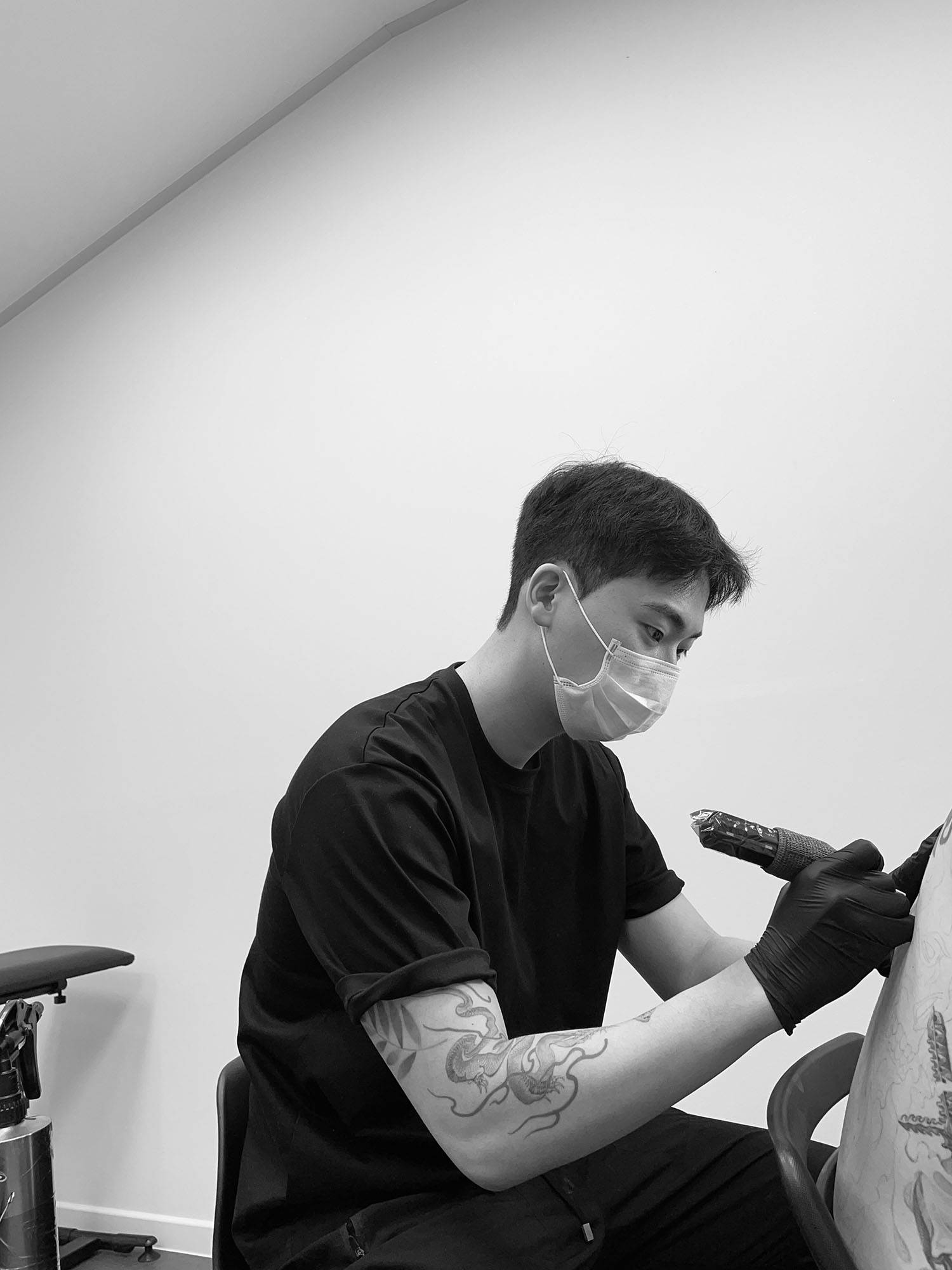 Tattoo artist Girin in a Korean studio.
On a daily basis, do you serve more than one customer?
I interact daily with two clients, which represents eight to ten hours of work.
Photos © Girin