Former student Lauren Schoellhorn makes an impact on students at Eureka High School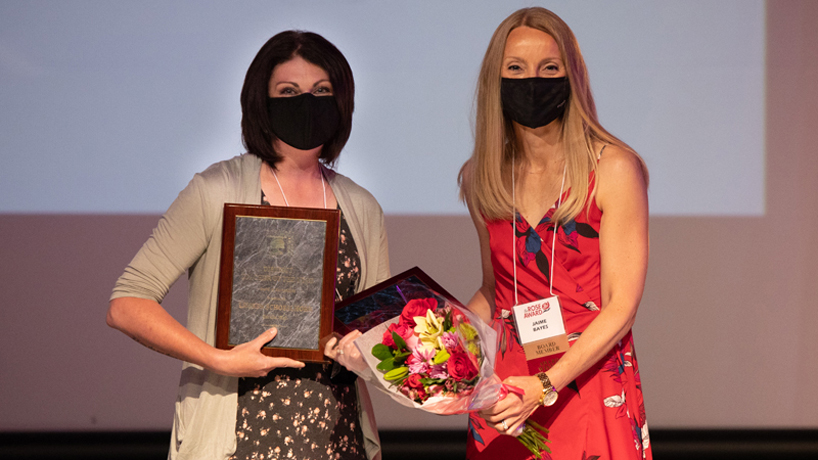 [ad_1]
From an early age, it was clear that Lauren Schoellhorn was destined to become an educator.
"My family always joked that I was going to be a teacher," she said with a laugh. "I organized classes for my younger brother – taught him to read. I always wanted to play at school. It was my favorite thing.
With the encouragement of educators throughout his teens, Schoellhorn, a university in Missouri-St. A graduate of Louis College of Education, she has turned her favorite hobby into a successful career.
In May, the Rockwood School District named Schoellhorn, a social studies teacher at Eureka High School, its 2021-2022 Teacher of the Year. After winning the award at the district level, she became one of 35 Regional Teachers of the Year. In September, the Missouri Department of Elementary and Secondary Education announced that she was one of seven finalists for Missouri Teacher of the Year 2022.
"Lauren is the best," Eureka High Principal Corey Sink said in a press release. "She is certainly the most deserving, and I could not be prouder of her success and accomplishment both personally and as Director of EHS. Her job as an educator is to love and care for children.
James Young, a UMSL graduate, won the statewide award, but Schoellhorn was grateful to be a finalist. She said it was especially rewarding after the previous school year, during which she faced personal and professional challenges.
Schoellhorn was adapting to online education during the COVID-19 pandemic and was helping his own children learn from a distance when his mother passed away. Back then, it was hard to imagine being in contention for Missouri Teacher of the Year.
"I never thought I would be here," she said. "It's incredibly humiliating. It's a huge, huge honor, and I'm very grateful for it all. It's still a shock.
Although Schoellhorn had always been interested in education, one person in particular inspired her to pursue her career. Judith Little, a longtime social science teacher at Frankfort Community High School in West Frankfort, Ill., Encouraged Schoellhorn's interest in history and helped her discover her strengths as a student.
"She made a fuss about it," Schoellhorn said. "It wasn't just all those facts to memorize. She told a story about it. She has woven all these interesting things there like the history of art, which I teach now, the history and geography of the world. All of these things interacting together, she just did an amazing job bringing me to life. "
It was all she wanted to be as an educator.
After graduating from high school, Schoellhorn attended John A. Logan College to play on the women's golf team and take general education courses before moving to UMSL in 2003.
She enrolled in the College of Education and played on the women's golf team, eventually earning an induction into the UMSL Sports Hall of Fame. It was a lot of juggling, but faculty members like Professor Peter Acsay and Professor Steven Rowan were incredibly supportive.
The College of Education also provided opportunities for dialogue with communities in the St. Louis area, which were essential to Schoellhorn's development as a teacher.
"My education teachers were very familiar with the realities of this job and what it means and what it looks like," said Schoellhorn. "I had these wonderful experiences in the field. I was in Ferguson-Florissant to do some observations, so I feel like I had a very diverse experience. I wasn't just looking at a bunch of kids or a demographic of kids. I really have to look at the challenges that all different groups of kids face, and that's one of the things I'm most grateful for.
In addition to sightings in the Ferguson-Florissant school district, Schoellhorn completed his teaching internship at Rockwood Summit High School. She knew then that she eventually wanted to return to the Rockwood School District.
The opportunity to do so arose in 2009 when a social studies position opened at Eureka High School. Since then, Schoellhorn has taught AP World History, AP Art History and Psychology and has also coached the Girls and Boys Golf Teams and the Speech and Debate Team.
The district's high standards for teachers and Eureka's sense of community appealed to Schoellhorn. She also feels supported when trying new things in class. It's something that she tries to extend to her students.
She believes that students who feel comfortable and supported in the classroom are less stressed and more open to learning. Her students also learn life lessons in addition to the social studies program.
"I'm trying to help these kids become the humans they're going to be," Schoellhorn said. "In my class we focus a lot on mental health and how things can be transferred to the real world. If I teach a lesson, I might ask them to write a cover letter as if they were applying for a job because then my kids will see what a cover letter looks like. Everything is relevant.
For Schoellhorn, seeing his students grow as people are by far the best part of teaching.
"The most rewarding part is seeing them understand themselves – so that they have that 'Oh my God I get it, I get it' moment," she said. "I hear from them years later. An art history student who is an accountant visits Rome and sends me pictures of the Vatican. They take me with them when they travel. This is the best part – that what they got from my class touched them apart in some way. It may take years for me to really see my impact on a student, but it's worth it.

Short url: https://blogs.umsl.edu/news/?p=90877
[ad_2]