Darwin D. Czubin | Obituary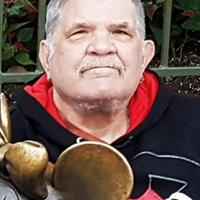 [ad_1]
January 5, 1950 – December 3, 2021
RACINE — Darwin D. Czubin, 71, passed away suddenly on Friday, December 3, 2021, at his residence. He was born in Marshfield, WI on January 5, 1950, the son of the late Joseph and Fay (née: Brown) Czubin.
On June 18, 1979, he married Candace A. Christensen who predeceased him on February 18, 2014. Darwin was employed by the State of Wisconsin, working at the Southern Center and then retiring from the Department of Vehicles at motor. He enjoyed taking the family camping and traveling to various theme parks as a thrill seeker looking for the next best ride. Darwin also appreciated his endless improvement in his body art. Above all, he was a dedicated husband, father and grandfather who will be sorely missed.
His four daughters survive: CJ Hill, Tara Fisher, Heather (Lenny) Allen, Ashley Baraleau; eight grandchildren: Josie, Kayleigh, Nicholas, Schylar, Kaelen, Paige, Sydney and Addisyn; brother, Donald (Pamela) Czubin; other relatives and friends. Besides his parents and his wife, he was predeceased by his grandson, Gabriel; and siblings: Joanne, Anita and Clyde. Private services will take place.
MARESH-MEREDITH & ACKLAM FUNERAL AND CREMATORY HALL
803 RUE PRINCIPALE RACINE, WI 53403
Please send your condolences to
[ad_2]